A More Comfortable Digital Working Life
Did you know that just a few hours of working at a computer or other screen daily can cause headaches, sore eyes, and blurred vision? These are all possible symptoms of digital eye strain, also known as computer vision syndrome.
You don't have to quit your day job to find relief. An eye exam can help to reveal whether you have any uncorrected vision issues that might be causing you discomfort. An updated prescription, specialty lens coatings, or simple changes to your workspace can all contribute to more comfortable vision.
What Is Digital Eye Strain?
When you use a screen, your eyes have to work harder to focus than they do during other visual tasks. At the same time, there are concerns with the blue light emitted from your screen being harder on your eyes than other colours of the visual spectrum. Another factor that can create discomfort for a person's eyes when using computer screens is the tendency to blink much less which can create the evaporative dry eye.
All these factors can contribute to digital eye strain. Symptoms of digital eyes strain include:
Headaches
Tired, sore eyes
Blurred vision
Double vision
Excessive tearing or dry eyes
Excessive blinking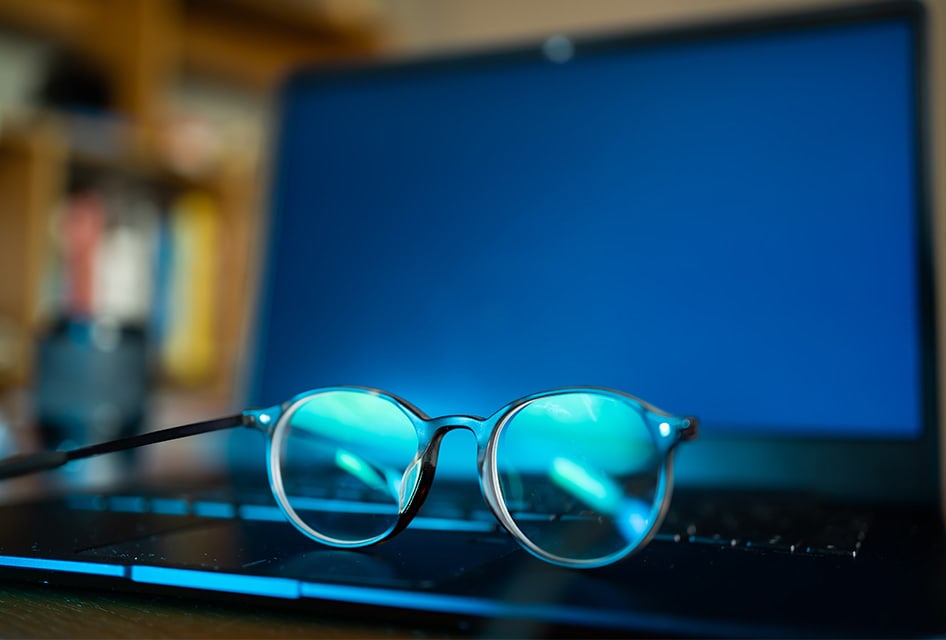 Relieving Digital Eye Strain
We can help identify the likely causes of your digital eye strain symptoms with an eye exam and work with you to find solutions for your discomfort.
Uncorrected Refractive Errors
For some people, eye strain while working on a computer is a result of an uncorrected refractive error, such as astigmatism (blurry vision both near and far), nearsightedness (blurry distance vision), or farsightedness (blurry near vision). An updated glasses or contact lens prescription can make a big difference in your comfort.
Eye strain could also be a result of uncorrected presbyopia, which is a naturally occurring change in the lens of the eye that tends to hit in a person's 40s. It causes trouble seeing things at reading distance.
Correcting your presbyopia with multifocal contacts, progressive lenses or bifocals can relieve digital eye strain symptoms.
Specialty Lenses
Some people find relief from digital eye strain by wearing blue-light-blocking or -filtering glasses, which may help your eyes deal with the high-energy blue light emitted by digital devices.
We offer blue-light blocking coatings from various companies as well as relaxing lenses such as Nikon RelaxSee.
The 20-20-20 Rule
Make sure to give your eyes a break throughout the workday. The Canadian Association of Optometrists recommends following the 20-20-20 rule: Every 20 minutes, take a 20-second break to look at something at least 20 feet away.
Be sure to blink throughout your workday, too, to keep your eyes hydrated. If your eyes often feel dry, you may want to ask your optometrist about dry eye therapy.
Adjusting Your Workspace
A few changes to your desk setup can make you more comfortable throughout your day. In your exam, we can provide suggestions specific to your workspace.
General recommendations include:
Adjusting your monitor to be at arm's length from you, and about 10 to 12 centimetres below eye level
Adjusting nearby lighting to eliminate glare on your screen or using an anti-glare filter on your monitor
Placing any documents you're referencing below your monitor and above your keyboard to minimize head movements between the 2, if possible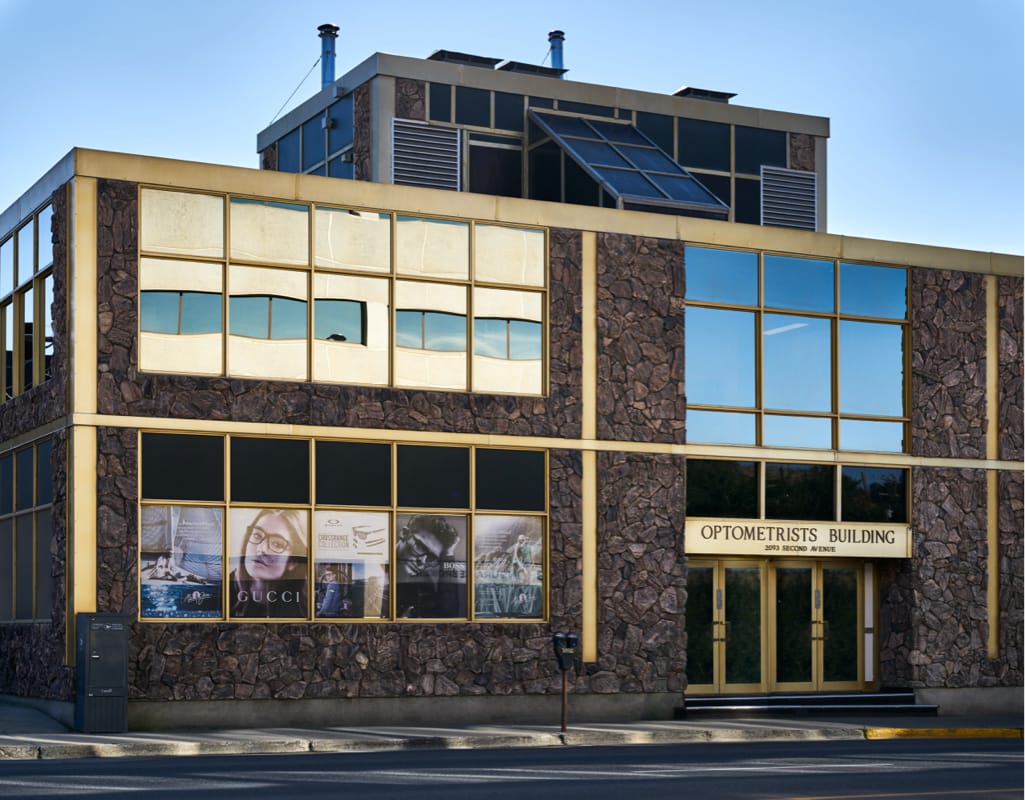 Our Address
2093 2nd Avenue

Whitehorse

,

YT


Y1A 1B5
Our Contacts
Find us in downtown Whitehorse across from the Yukon Visitor Information Centre, just steps from Main Street and the Yukon River.
For your convenience, we are wheelchair accessible.
Hours of Operation
Monday

:

8:00 AM

–

5:00 PM

Tuesday

:

8:00 AM

–

5:00 PM

Wednesday

:

8:00 AM

–

5:00 PM

Thursday

:

8:00 AM

–

5:00 PM

Friday

:

8:00 AM

–

5:00 PM

Saturday

:

Closed

Sunday

:

Closed
Hours of operation may vary on holidays.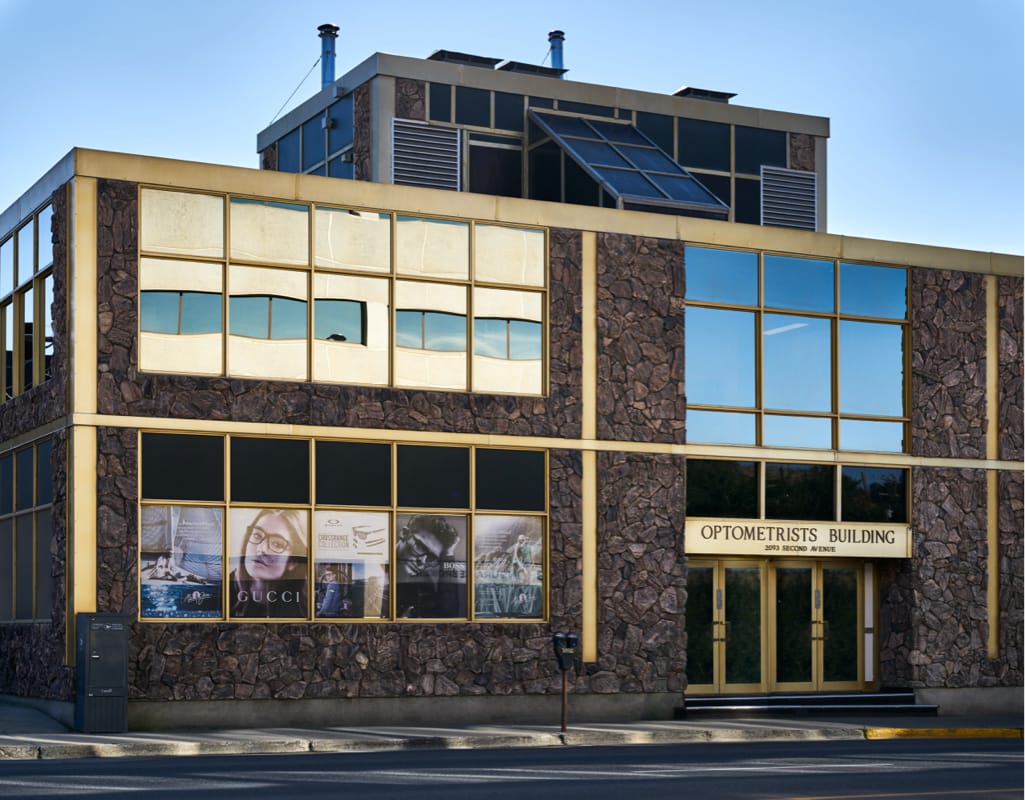 Our Brands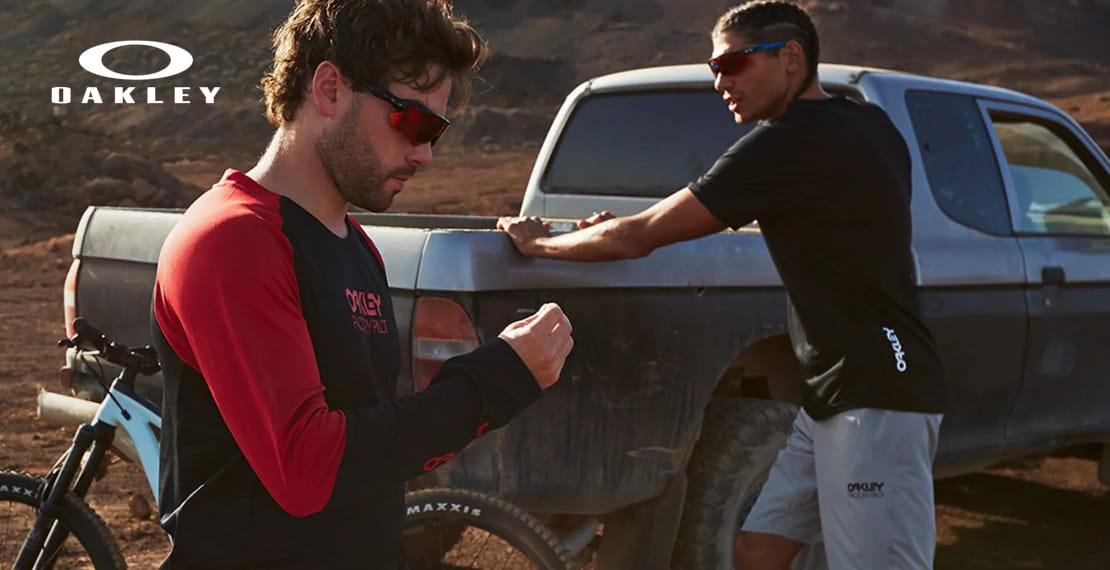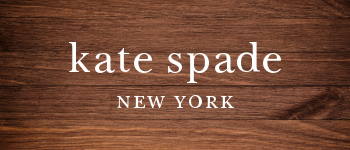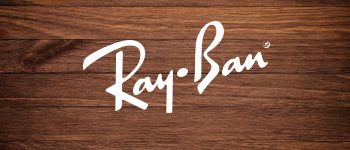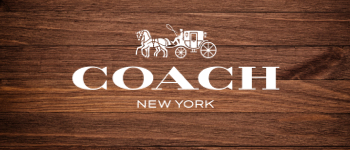 Our Testimonials
We've been going to Northern Lights Optometry for 20 years. The service has been always first class. The staff are professional, courteous and knowledgeable about the products they sell. This all lead by Dr. Gorrell who is the consummate professional, always gives professional no BS advice and is always friendly. He is fantastic with kids and helped my son make the transition from glasses to contacts when he was 9. 6 stars for me!!
Marcel B.
Friendly staff and expert advice. We are very fortunate to have this level of service and selection in Whitehorse. They went above and beyond to help me out in a jam! Thanks for the great service and quality care!
Jordan S
Northern Lights Optometry has taken care of my ocular health for the past 30 years. I've never had anything but good experiences. Pleasant, knowledgeable staff and kind, professional service are the standard.
Sarah H.
Always a great, professional, and knowledgeable experience for myself and my family, whether it's a regular eye exam or a diabetic exam. I've been a patient at Northern Lights for over 25 years, and I've always received the quality customer service I've come to expect because that's what I've always received. Great selection of glasses and sunglasses at competitive pricing. I highlight recommend Dr. Gorrell and his staff.
Jill N.
Had been having headaches and fatigue for months when it was suggested I have my eyes checked. Has not had my eyes checked in ten years. I was referred to see Dr. Guy Gorrell by a good friend. Dr. Gorrell was professional and very thorough in his assessment of my eyes and overall vision. In the end Dr. Gorrell was able to diagnose that my eyes did in fact need a prescription lens and my headaches and fatigue were likely due to my straining my eyes to see properly. His friendly and helpful staff assisted me in choosing my frames and in a very short period of time my glasses were available. Since having the prescription glasses my headaches and fatigue have stopped and I am very pleased. I highly recommend Dr. Gorrell and his staff at Northern Lights Optometry.
Lance B.